26-06-08
Brosnan @ Mandela's Birthday Party
Birtday party @ Hyde Park
source; www.broadway.tv
more pictures: click on the button "P.B Pics" on top of the page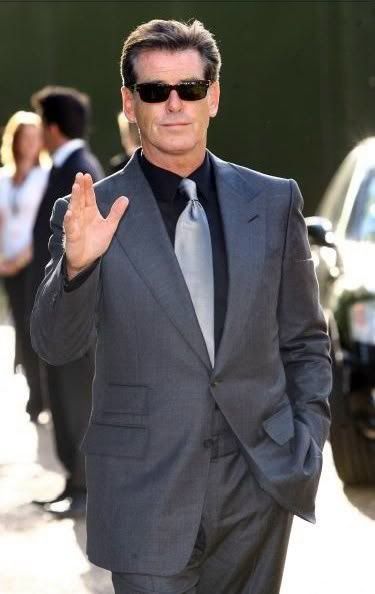 For those of us unable to attend the celebration for Nelson Mandela's 90th birthday in London, it is impossible to know what specifically was the small talk at Oprah's table with Sir Elton John, or between Pierce Brosnan, President Bill Clinton and Uma Thurman, but it is not a stretch to guess that at some point at some place during that celebration, the topic turned to Broadway. As we reported in May, Nelson Mandela's daughter has announced plans to collaborate on a new Broadway musical about her famous father and his remarkable achievements.The Broadway production has a tentative date of 2010. Also on hand were Oprah Winfrey (producer of Broadway's hit and current touring production The Color Purple) sitting next to her sat the most famous creator of the team responsible for bringing Billy Elliot to Broadway this fall…Sir Elton John. That show is already a long-runner in London and expectations are high for Broadway success. Perhaps this photo captures the moment when the two celebrity Broadway producers enjoyed their mutual Broadway successes.
Also on hand was Pierce Brosnan, who stars in the upcoming film version of the Broadway musical Mamma Mia!slated for a July opening. Of course, President Clinton, Joan Baez, Will Smith, and Denzel Washington were among the long list of artists and dignitaries on hand to celebrate Nelson Mandela. While we don't know if Oprah and Elton talked Broadway with Nelson Mandela about his upcoming musical, anything is possible.
No Bill Clinton Broadway musical plans in the works, as far as we know at this time.
18:00 Gepost door Brosnangirl in Actualiteit | Permalink | Commentaren (0) | Tags: londen, party, birthday, broadway, pierce brosnan, oprah winfrey, pictures, elton john, bill clinton, nelson mandela, mamma mia, hyde park |
Facebook |