02-09-09
16:33 Gepost door Brosnangirl in Actualiteit | Permalink | Commentaren (0) | Tags: ivy, pierce brosnan, sexy, londen, london |
Facebook |
14-08-09
Brosnan stranded
source
www.everythingy.com/
Hollywood actor Pierce Brosnan was left stranded in London after his people couldn't book him a flight.
The 56-year-old actor was stranded because there were no direct flights available from LA to Naples.
A source said: "Pierce is heading to Naples on holiday but was forced to stay overnight in London as he couldn't get a direct flight.
"He was chauffeured to the Four Seasons in Hampshire to stay in a £3,350 suite."
18:53 Gepost door Brosnangirl in Actualiteit | Permalink | Commentaren (0) | Tags: italy, pierce brosnan, stranded, londen, napels |
Facebook |
30-06-08
Today
Première Londen "Mamma Mia
Meryl Streep leads an all-star cast in the feature-film adaptation of the beloved musical that has been seen by more than 30 million people in 160 cities and 8 languages around the world. Bringing the timeless lyrics and melodies of iconic super group ABBA to movie audiences, Summer 2008 is the season for Mamma Mia!

The three women who created the worldwide smash stage hit—global producer Judy Craymer, writer Catherine Johnson and director Phyllida Lloyd—repeat their roles in bringing this joyful, musical story to the big screen. The Mamma Mia! film is produced by Judy Craymer and Gary Goetzman.

Pierce Brosnan, Colin Firth, Stellan Skarsgård, Christine Baranski, Julie Walters, Amanda Seyfried and Dominic Cooper join Streep in this celebration of a mother, a daughter and three possible dads.

An independent, single mother who owns a small hotel on an idyllic Greek island, Donna (Streep) is about to let go of Sophie (Amanda Seyfried), the spirited daughter she's raised alone. For Sophie's wedding, Donna has invited her two lifelong best girlfriends—practical and no-nonsense Rosie (Julie Walters) and wealthy, multi-divorcee Tanya (Christine Baranski)—from her one-time backing band, Donna and the Dynamos. But Sophie has secretly invited three guests of her own.

On a quest to find the identity of her father to walk her down the aisle, she brings back three men from Donna's past to the Mediterranean paradise they visited 20 years earlier. Over 24 chaotic, magical hours, new love will bloom and old romances will be rekindled on this lush island full of possibilities.

Inspired by the storytelling magic of ABBA's songs from "Dancing Queen" and "S.O.S." to "Money, Money, Money" and "Take a Chance on Me," Mamma Mia! is a celebration of mothers and daughters, old friends and new family found."

The film stars: Meryl Streep, Pierce Brosnan, Colin Firth, Stellan Skarsgård, Julie Walters, Dominic Cooper, Amanda Seyfried, Christine Baranski
21:28 Gepost door Brosnangirl in Algemeen | Permalink | Commentaren (0) | Tags: londen, pierce brosnan, meryl streep, premiere, mamma mia |
Facebook |
26-06-08
Birtday party @ Hyde Park
source; www.broadway.tv
more pictures: click on the button "P.B Pics" on top of the page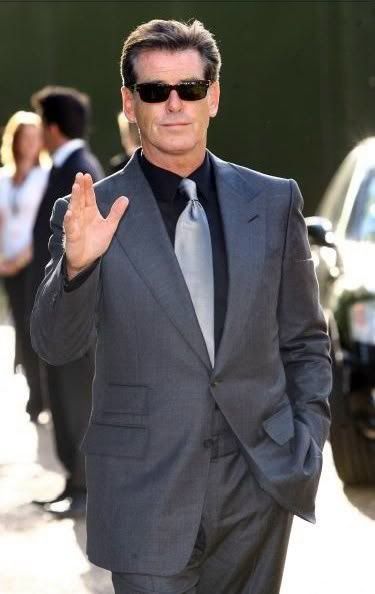 For those of us unable to attend the celebration for Nelson Mandela's 90th birthday in London, it is impossible to know what specifically was the small talk at Oprah's table with Sir Elton John, or between Pierce Brosnan, President Bill Clinton and Uma Thurman, but it is not a stretch to guess that at some point at some place during that celebration, the topic turned to Broadway. As we reported in May, Nelson Mandela's daughter has announced plans to collaborate on a new Broadway musical about her famous father and his remarkable achievements.The Broadway production has a tentative date of 2010. Also on hand were Oprah Winfrey (producer of Broadway's hit and current touring production The Color Purple) sitting next to her sat the most famous creator of the team responsible for bringing Billy Elliot to Broadway this fall…Sir Elton John. That show is already a long-runner in London and expectations are high for Broadway success. Perhaps this photo captures the moment when the two celebrity Broadway producers enjoyed their mutual Broadway successes.
Also on hand was Pierce Brosnan, who stars in the upcoming film version of the Broadway musical Mamma Mia!slated for a July opening. Of course, President Clinton, Joan Baez, Will Smith, and Denzel Washington were among the long list of artists and dignitaries on hand to celebrate Nelson Mandela. While we don't know if Oprah and Elton talked Broadway with Nelson Mandela about his upcoming musical, anything is possible.
No Bill Clinton Broadway musical plans in the works, as far as we know at this time.
18:00 Gepost door Brosnangirl in Actualiteit | Permalink | Commentaren (0) | Tags: londen, party, birthday, broadway, pierce brosnan, oprah winfrey, pictures, elton john, bill clinton, nelson mandela, mamma mia, hyde park |
Facebook |